Shopping Basket
Your Basket is Empty
There was an error with PayPal
Click here to try again
Thank you for your business!
You should receive an order confirmation from Paypal shortly.
Exit Shopping Basket
Still tons and tons of interest and intrigue locally, nationally and (ahem) internationally regarding the developments at ParkHill 
 Apparently the show flats'll be available for viewing from the 8th of October (form an orderly queue please)  here's what some of the papers have to say about the refurbishment–
Towerblockmetal fans will be glad to see I actually responded against the tirade of miserable drizzlers who are happy to condemn ParkHill and other high density social housing projects to the dustbin; blaming the buildings themselves as causing many social problems -check out the reasoned and well thought out contributions by some locals !
Also check out sneaky pics of the PH showflats  on the
BBC  page
Everyone has their 15 minutes of fame – well Roy Hattersley and Grenville Squires certainly managed 5 minutes of theirs on the OneShow ; talking about Park Hill - Roy Hattersley was involved in the commissioning of  the estate from its inception in the 1950s and remembers well the ideals and visions of the planners at time ; Grenville Squires (now retired and semi legendary ) was  the  caretaker on ParkHill for the past 30 years and has always spoke vehemently in its defence.
Watching the clip i couldn't help but feel a bit sorry for Grenville, who has obviously dedicated  so much of his time and effort into making ParkHill a positive place to live in and defended it from the doom mongers who've never been there. It felt like ParkHill  no longer needed Grenville and he was obsolete; i sincerely hope this isn't the case . The man deserves a statue!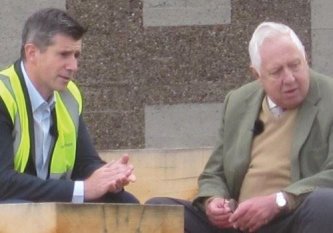 Photo-  SingleAspect
Not one to miss out on anything to do with ParkHill the unstoppable
Single Aspect
has been back in Sheffield again-  to attend the recent Heritage days and also the
"Brutalist Speculations"
Conference  at  the Site gallery- the guy just can't stay away!
 –Although I was regretfully unable to attend said conference due to my work committments   I  did manage to meet up several times for housing tours, cooked breakfasts, general Urban derive and many a few beer or ten - ( I'd like to think Single Aspect feels  my city tours are better-could show Owen Hatherley a thing or two)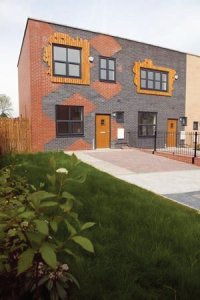 Larkin Grove - Parson Cross
I can't say i'm overenthusiastic about the look;
 too much like something off CeeBeeBies for me
..but there're certainly interesting
Also ParkHill has made the shortlist for the 2011
 It is the only UK building to be shortlisted in its category (residential)
the only UK project to be shortlisted in its category
Any non believers that say Tower blocks don't work and can't be managed  would do well to read the following article from the
Guardian;
  demonstrating that with the right mix of tenants (who want to be there) and simple concierge – the most deprived housing areas can be made to function well for the urban setting . It is a good article   also for believers to back up their arguments
Grand opening event Saturday 24thb September
/