Shopping Basket
Your Basket is Empty
There was an error with PayPal
Click here to try again
Thank you for your business!
You should receive an order confirmation from Paypal shortly.
Exit Shopping Basket
Gives me great pleasure here at TBM to proudly announce that the Moore street substation, (opposite Waitrose) Sheffield was given Grade 2 listed status last week  by English Heritage 
The landmark building is becoming an increasingly popular favourite amongst Brutalist admirers both locally and nationally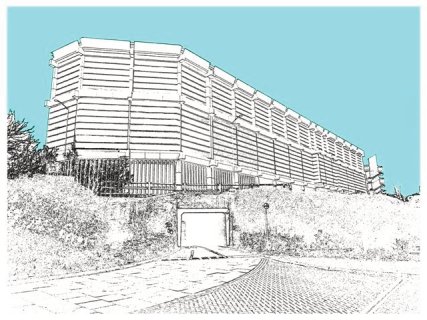 Limited edition print-
A typical TowerBlockMetal take on things
Of course Brutalist Architecture has never sat comfortably with some - Don't they make everyone else aware of it ? Judging by some of the one liners in
the Star
there's the usual drizzle- I'm sure they'll go into meltdown if
ParkHill wins the Stirling prize this Thursday 
Anyhow some great shots here from some lucky
Urbexers
whom managed to gain access
And for the real Anoraks amongst you here's the notes from English Heiritage describing the Architecture and reasons for listing - not that the drizzlers ever get this far! 
Electricity substation. 1968 to designs by consulting architects Jefferson, Sheard and Partners, Sheffield, led by Bryan Jefferson, in association with the Regional Civil Engineers' Department of the CEGB North East Region. Contractors, Longden & Sons Ltd, Sheffield. Reinforced concrete frame with board-marked finish with formwork bolt marks, construction and daywork joints emphasized, concrete floor slabs, blue engineering facing bricks, cladding panels of Cornish granite aggregate.Reasons for DesignationThe electricity substation, Moore Street, Sheffield, of 1968 by Jefferson, Sheard and Partners, led by Bryan Jefferson, in association with the Regional Civil Engineers' Department of CEGB North East Region, is listed at Grade II for the following principal reasons: * Planning: built in 1968, this substation is highly unusual for its date as due to its prominent urban position in a post-war redevelopment area the transformers and switchgear are enclosed within an architect-designed building, rather than being located in an open-air site surrounded by security fencing as was the usual form for substations of this period; as such it was commended in the Financial Times Architectural Awards of 1968; * Architectural Interest: designed in the Brutalist idiom and described as a 'citadel' at the time of its construction, the substation takes the form of a massive and uncompromising bunker which by its plainness and fully-displayed structure expresses a highly appropriate impression of enormous energy confined and controlled within; * Design: the craftsmanship and attention to detail of the building is clear in the precision of the clean, crisp lines, the scrupulously finished concrete which carries a board-marked finish and formwork bolt marks emphasizing the material's rugged strength, and the placing of the human access in a separate triangular staircase with external walkways, which combine to give the building a dramatic, sculptural quality; * Interior: the same attention to detail apparent in the exterior is displayed in the ancillary personnel area at the south-west end with the simple forms of the internal free-standing concrete staircase and pentagonal mezzanine landing having a fine sculptural form, as do other internal staircases, while in contrast to the human scale of these elements, are the spaces holding the equipment, which are sublime in their cathedral-like size; * Historic Interest: the substation forms a significant and highly visible component of a much wider post-war scheme to revitalise Sheffield's infrastructure and bring it to the vanguard of contemporary thinking on urban environments that had commenced under the guidance of City Architect, J L Womersley, and included a number of Brutalist buildings including the Grade II* Park Hill of 1955-61 based on Le Corbusier's Unite de Habitation, Marseilles.HistoryDuring the 1960s electricity distribution in the City of Sheffield called for the use of a 275 kilovolt cable ring around the city centre with transformer and switching substations on the ring to supply the local Area Board 33kilovolt (kV) system. One such substation was required to be sited near the junction of the Moor and Ecclesall Road, an area which in the 1960s was largely occupied by substandard back-to-back housing and numerous small cutlery factories and was in the process of redevelopment. For amenity reasons, and because of the scarcity and high cost of land needed for a conventional open-air substation layout, it was decided to build an enclosed substation containing transformers, switchgear, and busbars on separate floors. The preferred layout would have been square in plan, but provision of a suitable site would have required the closure of several small factories. Consequently, the Sheffield Planning Officer restricted the Central Electricity Generating Board (CEGB) to an L-shaped area occupied by back-to-back properties already scheduled for demolition.


The construction of the substation was due to be carried out in two phases, the first being situated between Moore Street and Hodgson Street and measuring 320 ft (97.5 m) long by 56 ft (17 m) wide, with a corner linking section. Phase 2, forming the other leg of the L, was never built as the increased demand which would have justified its construction did not materialise.


Due to the prominent position, and with extensive redevelopment planned, the architectural treatment of the structure was considered important and the CEGB engaged Jefferson, Sheard and Partners of Sheffield and London as architects to work in collaboration with the Board's own regional civil engineer. The design of both wings was dictated by the structural and statutory requirements of the electrical gear to be housed. Each was to have two 90 MVA transformers on the ground floor, one air-blast switchgear installation on the first floor and associated busbars on the second floor, together with associated ancillary equipment. Factors included weight of the plant and specified air clearance distances which had to be maintained between the structure and live equipment and the necessary clearances for the maintenance of equipment. The statutory clearance laid down by CEGB required an uninterrupted space in the transformer chambers of 99 ft (30 m) by 47 ft 9 in (14.5 m) and this dictated the clear span of the structural framing. A reinforced concrete structural frame was chosen over a steel frame because of the heavy floor loads requiring continuous stress distribution from floor to frame, fireproofing requirements, and the mass required to reduce noise. With no windows needed in the main portions of the structure housing the electrical equipment, the opportunity was taken to design a building which was a powerful expression of its purpose. The building gained considerable critical acclaim and was commended in the Financial Times Industrial Architecture Awards in 1968.


The building remains in use as an electricity substation. The structure has changed very little in appearance other than the building of a short wall at ground-floor level enclosing the base of the external staircase to prevent it being accessible from the street. The inserted wall uses the same type of blue engineering brick as was originally used for the ground floor. Since October 2010 the building has been floodlit with coloured lighting at night-time with the aim of creating a dramatic artistic focal point on the City's ring road (Hanover Way).DetailsPLAN: long, rectangular building with angled south-west end. Cable basement, two transformers on ground floor, switchgear on first floor, second floor originally for busbars (now empty), with floors linked by external staircase and covered walkways at east corner, some floors linked by internal staircases. Battery room and ancillary personnel areas at south-west end on ground floor and mezzanine floor, internal staircase and lift.


EXTERIOR: the substation is situated on the north-west side of Moore Street at the junction with Hanover Way. The Moore Street elevation is of seventeen bays of reinforced concrete portal frames mainly located at 21 ft (6.4m) centres along the length of the building. The first two bays are angled, facing onto a roundabout, and on the first floor the tenth, eleventh and twelfth bays project slightly. Between the ground and first floors is a deep, chamfered floor plate, with projecting, rectangular floor beams at the bay divisions. The floor plate between the first and second floors forms a string band with similarly projecting floor beams, with a similar eaves band. Flaring roof coping panels, which are gapped at the projecting roof beams, produce a castellated effect. At ground-floor level the two angled bays and the third, fourth and fifth bays have spaced concrete vertical slats, behind which is glazing. Those to the third to fifth bays have set-back blue brick infill panels beneath. The remainder of the ground floor has set-back blue brick infill between the portal frames, with the exception of bay eleven, which also has vertical concrete slats. Bays eight to sixteen have projecting low, flat-roofed blocks, which are similarly detailed with concrete portal frames, a deep concrete roof and blue brick infill. There are concrete roof ventilators on the slightly lower block in bays eight to ten. The first floor has horizontal aggregate cladding panels fixed over the concrete portal frames with narrow gaps between the panels. The second floor has similarly spaced cladding panels, which are set-back between the portal frames. At the right-hand end is a free-standing external staircase, now enclosed at ground-floor level by a wall of blue bricks. The staircase is triangular with chamfered corners. It has a triangular, board-marked concrete core with a sloping top which projects above the actual staircase. The flights of concrete steps wrap round the core supported on cantilevered brackets. At ground-floor level the staircase walls are infilled with blue brick, at first-floor level narrow vertical concrete slabs are used, while the three upper flights are glazed with narrow vertical panels of glass. 


The north-east end elevation is of two bays with a third, narrower bay cantilevered out at first-floor level. Detailing is similar to the Moore Street elevation, with spaced concrete slats with blue brick infill beneath on the ground floor, horizontal cladding panels overlapping the concrete framing on the first floor and set-back on the second floor. At first and second-floor levels are enclosed cantilevered walkways opening off the external staircase at the left-hand end. Both have concrete floor and roof slabs and are glazed with narrow vertical panels of glass.


The south-west end elevation is of a single bay, similarly detailed to the two angled bays which form part of the Moore Street elevation. 


The Hodgson Street elevation is of fifteen bays and has similar detailing to the Moore Street elevation, the main difference being that the first floor is cantilevered with large triangular brackets on the portal frames supporting the floor beams. The first floor projects slightly in bays six to eight, mirroring the projecting bays on the Moore Street elevation. The underside of the projecting bays in the Hodgson Street elevation contains a large access hatchway. In bay nine is a projecting semi-circular staircase outshut at ground-floor level, built of blue brick.


INTERIOR: On the ground floor are two large, mirror-image transformer rooms separated by a transverse access way. They have high ceilings, designed so that the brickwork, which is here of orange bricks, can be removed from between the concrete portal frames to enable equipment to be inserted/removed. The transformers are set into large pits. On the outside of each transformer room is a room containing cooling equipment, which is open to the Hodgson Street elevation. Opening off the south-west transformer room is the semi-circular staircase, which connects the ground floor with the cable basement and with a self-contained mezzanine level housing a room with air receiver containers and an air compressor room. Concrete flights of steps rise round a slab-like concrete core, with semi-circular landings. Plastic-coated metal handrails are attached to the inner core. At the south-west end of the building is the ancillary personnel area, with a number of rooms opening off an irregular pentagonal circulation area containing a free-standing concrete staircase. Three flights of concrete steps overhanging a central concrete beam are angled round two intermediate landings to form a triangular shape; the landings are supported on circular concrete columns. The swept balustrades are of metal square-section bars with black plastic-coated handrails. On the north-west side is a personnel lift set in a concrete lift shaft and the other walls in this public area are of blue brick, with small, square blue-glazed tiles on the floors and forming a skirting. The doors opening off both the ground floor and mezzanine landing are of narrow vertical boarding set in a wider stile and rail frame. On the north-east side of the lift is a second concrete staircase with metal balustrades rising from the mezzanine level to the first floor. The flights of steps rise round a slab-like concrete core with intermediate semi-circular landings supported on projecting horizontal beams. The first floor is a single open space with switchgear equipment in fenced-off areas. The access hatchway has a pivoting metal hatch. Attached across the width of the concrete ceiling above are a number of rolled steel girders and winches to facilitate the movement of equipment. There is a large rectangular hatch in the ceiling, now covered, through which the switchgear originally linked with the busbars on the second floor. A doorway in the north-east end wall opens into the covered walkway linking to the external staircase. The second floor is presently empty. At the north-east end is a largely free-standing concrete staircase leading up to the roof. The three flights of concrete steps rise between intermediate landings. The lower landing is supported on a circular concrete column and the upper landing rests against the end wall. The metal balustrades are similar to elsewhere. A doorway in the north-east end wall opens into the upper covered walkway linking to the external staircase. The cable basement has shallow concrete troughs for the cables to run in. In the east corner is an internal staircase leading up to a door opening adjacent to the external staircase. 

Pursuant to s.1 (5A) of the Planning (Listed Buildings and Conservation Areas) Act 1990 ('the Act') it is declared that the electrical equipment contained within the substation is not of special architectural or historic interest.Selected Sources
Many thanks  to all the good folk who came along to the Vintage and Craft Fair at St Marys Community Centre Saturday 4th Feb  and also  to  everyone who attended the Cupola Charity Auction  Saturday 11th Feb helping to raise £700 for charity -
Obviously the most thanks goes to the buyers of my 2 donations WHICH SOLD!
PARK HILL GRAND (RE) OPENING – TWO TALES FROM THE SAME CITY
0r  I search ParkHill on the Internet ..so you don't have to Part3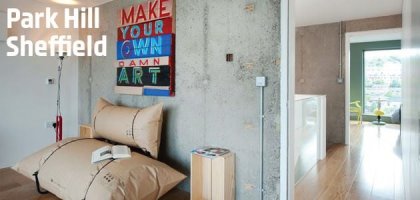 Show apartments and marketing suite opening Saturday 8th October 2011 from 11am
It's the day before the grand opening of the
Urban Splash show flats at Park Hill
; Everyone and their dog  seems to be having  (and is likely to be having for the next couple of months) a right royal feeding frenzy about it.
There's been some high profile / high brow events such as the National Youth Theatres production of Slick and also a huge party last week organised by
Article Magazine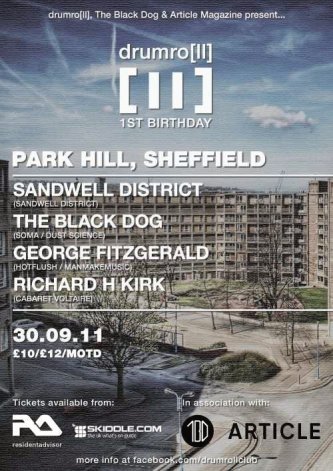 Probably not my scene anyway….Anyhow there certainly seems to be an air of understandable trepidation within Sheffield about the reopening of the estate and whether or not it's going to work in the long term; with the usual polar arguments from the pessimists - moaning that it's a waste of money, time, dumping ground for problems, a blot on Sheffield skyline etc etc yawn - to the more progressive  hopeful optimists (My good self included)  - we all know a pessimist is never disappointed eh! This comment from a prospective buyer is a very encouraging one and I certainly hope more indicative of things to come  
I grew up in a village in the Derbyshire dales and Sheffield was always our closest major city. The place you went to but records, to go to concerts and to begin to grow up into. I was always brought up to look down my nose at Park Hill. A place for those who lived on benefits, didn't contribute anything and spent their lives indulging in anti-social behaviour.
As I grew up, I got to know a number of people who lived at Park Hill and learned that its inhabitants were just like everyone else - stuggling through life and making the same mistakes as everyone else. I now visit family in derbyshire regularly and this entails a trip through the centre of sheffield. Each time my eyes drift towards the Park Hill skyline and I am thrilled to see how its changed on each consecutive visit. I happen to think that English Heritage are almost a liability under Simon Thurleys leadership, but on this decision they were not wrong.
I am delighted that this important element of Shgeffield's social history is being brought back to life and with
any luck I will be first in line to buy one when they become available.
Discussion has ranged  from the colour of the iodised exterior panels, to the interior design, to how much they are; to much more serious fundamental and ethical questions such as who is going to live there ?, are private Landlords going to buy en masse,   how many social tenants or units of affordable housing are there likely to be and so on ad infinitum … Urban Splash have indicated there's been tons of interest with at a ratio of 20 enquiries per unit so things are definitely looking good …
Urban Splash says it has been "delighted" with the response, with about 1,000 people signing up for information ahead of the first sales, and strong interest from businesses. If Park Hill is successfully reborn – far from a certainty for a project which has already required one public bailout – it will complete a 50-year full circle for the estate and indicate a possible wider shift in public opinion towards such postwar schemes.
For all you armchair design critics out here here's the
Brochure
and also the promotional YouTube clip
There's no doubt that the spec and design layout of these flats is world class and highly enviable – it does seem clear that the market there're aiming to reach with this phase of the refurbishment is that of Urban professional
 (People seem to have dropped the "young" from this phrase - post millennia)
That said however it seems unclear about how a mix of social housing within the refurb is to be achieved - there is no more poignant moment to emphasize this than the video from TheOneShow; when former caretaker Grenville Squires looks around the new flats
– I was always under the understanding that some Social housing tenants were to be placed there;   indeed the re-housing list was already full of ex tenants who enjoyed living there so much they wanted to return.
It is somewhat frustrating to see so many inhabitable empty flats in the other parts of the estate with such a huge waiting list for to be rehoused – That said though it does give the lover of the Urban Environment a window of a couple of years to sit isolated within such a massive scheme - and take in the whole ambience of Brutalism in its finest and ultimately derelict form
Very good thought provoking comment on
•   Regeneration? What's happening in Sheffield's Park Hill is class cleansing
MelKelly's comment 28 September 2011 7:46PM
In the supposed free market councils are not allowed to borrow to build housing, yet housing associations can and property developers can.
If the market is free why successive government since have Margaret Thatcher's refused to let councils borrow to build social housing?
What good reason is there?
Councils invest for the long term need, not the short term profit, setting rents at affordable prices to cover the costs - not for making profit - and the private sector don't want to compete with that - so government's have kept the ban on councils building social housing in place.
So we are deprived of social housing to ensure private landlords can maximise profits in a rented housing monopoly.
And the end result is houses that councils would have rented out for £300 being rented out by the private sector for £800 per month
Why should any government be allowed to manipulate the market to deprive people of housing and maximize private sector profits which has resulted in mass homelessness and extortion by private sector landlords
It is time for the housing market to have the shackles removed and become truly free i.e. councils can borrow to build social housing and rent it out at affordable rates if that is what local people want.
I think it is time we had a referendum on this issue
 I still can't understand why Sheffield City Council decanted residents pretty much enmasse from ParkHill;  Maybe they thought they could then demolish it without anyone noticing! I agree with Owen Hatherley on this - maybe the empty flats should be squatted?  but there again why should I understand any logic from the Council ; Its happy to entrust me with potential life or death decisions about who goes to hospital in the middle of the night; but won't trust me to get an envelope from the stationary cupboard to send a GP a report!
Don't get me wrong; this is a criticism of Local government than a criticism of UrbanSplash; if anyone is going to make Park Hill work then I believe it's them,
Having stayed within some of their developments in Manchester which were categorically perceived as slums 10-15 years ago its amazing how much Urban Splash have  changed whole areas round. So at risk of being accused a naïve,  rose tinted spec wearing , splinter-arsed,fence sitter - I largely wish that the regeneration is a huge success –  
 Finally for all you old retro post war vintage nostalgia loving romantics here's some great films of ParkHill first time round, get the tea and HobNobs out and enjoy…
Streets in the sky
Still tons and tons of interest and intrigue locally, nationally and (ahem) internationally regarding the developments at ParkHill 
 Apparently the show flats'll be available for viewing from the 8th of October (form an orderly queue please)  here's what some of the papers have to say about the refurbishment–
Towerblockmetal fans will be glad to see I actually responded against the tirade of miserable drizzlers who are happy to condemn ParkHill and other high density social housing projects to the dustbin; blaming the buildings themselves as causing many social problems -check out the reasoned and well thought out contributions by some locals !
Also check out sneaky pics of the PH showflats  on the
BBC  page
Everyone has their 15 minutes of fame – well Roy Hattersley and Grenville Squires certainly managed 5 minutes of theirs on the OneShow ; talking about Park Hill - Roy Hattersley was involved in the commissioning of  the estate from its inception in the 1950s and remembers well the ideals and visions of the planners at time ; Grenville Squires (now retired and semi legendary ) was  the  caretaker on ParkHill for the past 30 years and has always spoke vehemently in its defence.
Watching the clip i couldn't help but feel a bit sorry for Grenville, who has obviously dedicated  so much of his time and effort into making ParkHill a positive place to live in and defended it from the doom mongers who've never been there. It felt like ParkHill  no longer needed Grenville and he was obsolete; i sincerely hope this isn't the case . The man deserves a statue!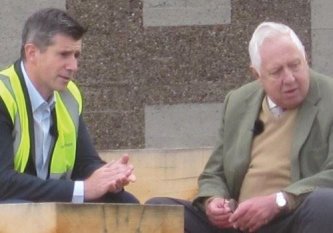 Photo-  SingleAspect
Not one to miss out on anything to do with ParkHill the unstoppable
Single Aspect
has been back in Sheffield again-  to attend the recent Heritage days and also the
"Brutalist Speculations"
Conference  at  the Site gallery- the guy just can't stay away!
 –Although I was regretfully unable to attend said conference due to my work committments   I  did manage to meet up several times for housing tours, cooked breakfasts, general Urban derive and many a few beer or ten - ( I'd like to think Single Aspect feels  my city tours are better-could show Owen Hatherley a thing or two)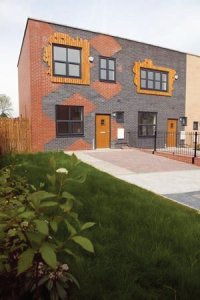 Larkin Grove - Parson Cross
I can't say i'm overenthusiastic about the look;
 too much like something off CeeBeeBies for me
..but there're certainly interesting
Also ParkHill has made the shortlist for the 2011
 It is the only UK building to be shortlisted in its category (residential)
the only UK project to be shortlisted in its category
Any non believers that say Tower blocks don't work and can't be managed  would do well to read the following article from the
Guardian;
  demonstrating that with the right mix of tenants (who want to be there) and simple concierge – the most deprived housing areas can be made to function well for the urban setting . It is a good article   also for believers to back up their arguments
Grand opening event Saturday 24thb September
Heck of a lot of interest in the old dear on the week of her 50th Birthday! Check out "link central"  below.....
Some locals talking about the ongoing works  and the South Street  Ampitheatre
 Almost certainly we will be spending time in and around PH and we are endevouring; via  the council to gain (legal) access to one of the empty tenancies for photos research etc , obviously this will be a future Blog topic if we are sucessful; also am looking forward to organising several  other Industrial /  housing / heritage tours ...hopefully on the backdrop of too many Wetherspoons Breakfasts  and beer in the evenings

Not the most advertised event of the decade ; but apparently Park hill was officially opened 50 years ago (yesterday)- I only got to learn when I was going to bed ! Here's what the Yorkshire Post had to say .....
Graffiti to be rescued in city flats restoration
Published on Thursday 16 June 2011 06:00
AN UNLIKELY feature of Sheffield's Grade II Listed Park Hill flats has been preserved as part of the redevelopment of the high-rise complex.
A scrawled graffiti message making the statement "I love you will u marry me" has been a feature of a concrete bridge linking two sections of the structure for many years.
Now developer Urban Splash has decided the message, daubed by an unknown author, is too valuable to lose and it has been highlighted further with a neon sign which spells out the words.
It is 50 years today since Park Hill flats were officially opened as council flats. For several years now Urban Splash has been involved in redevelopment work which will see the complex transformed for modern needs.
Exterior work and landscaping are now nearing completion, with apartments expected to go on sale from September, when the first four to be modernised will go on show to the public.
Urban Splash chairman Tom Bloxham said graffiti was now recognised as part of the heritage and romance of the flats.
He said: "As Park Hill turns 50, a new chapter is beginning and it is fitting to mark this point with the unveiling of the next modern twist at Park Hill – the neon I Love You Will U Marry Me sign.
"The declaration 'I love you will you marry me' is not only an iconic piece of graffiti but is also our invitation to the city. We want people to love Park Hill once again and it is exciting to see the development taking shape," he said.
A series of events over several months is being planned to celebrate the building's half-century anniversary, which will include exhibitions, music and arts events.
In addition, designers and artists have also been commissioned to create homeware and artworks to commemorate the anniversary.
Coun Harry Harpham, Sheffield Council's regeneration spokesman, said: "Park Hill is a flagship development in Sheffield, both because it's so visible from many parts of the city and it has such a rich and fascinating history."
You'd think that given the Grade 2 listed status of the Brutalist Beauty and also how much Urban Splash are promoting how fantastic it is and will be to live there; they'd have made more of fuss about the unveiling of the now neon enhanced classic graffiti adorning the walkway connecting  Long Henry Row between Phase 1 and Phase 2
Anyhow at risk of sounding like a right miserable so and so I'll stop moaning and merely acknowledge the fact i'm envious that i wasn't there
(Belated!) HAPPY 50th BIRTHDAY PARK HILL!..
/