Shopping Cart
Your Cart is Empty
There was an error with PayPal
Click here to try again
Thank you for your business!
You should be receiving an order confirmation from Paypal shortly.
Exit Shopping Cart
PARK HILL GRAND (RE) OPENING – TWO TALES FROM THE SAME CITY
0r  I search ParkHill on the Internet ..so you don't have to Part3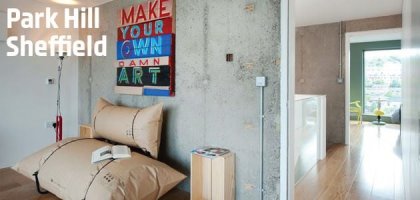 Show apartments and marketing suite opening Saturday 8th October 2011 from 11am
It's the day before the grand opening of the
Urban Splash show flats at Park Hill
; Everyone and their dog  seems to be having  (and is likely to be having for the next couple of months) a right royal feeding frenzy about it.
There's been some high profile / high brow events such as the National Youth Theatres production of Slick and also a huge party last week organised by
Article Magazine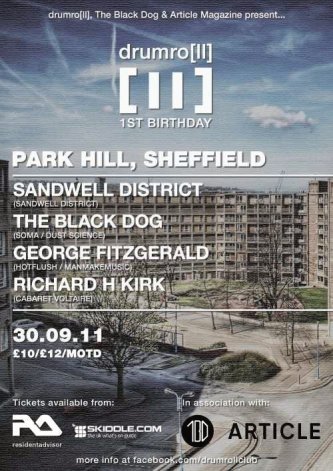 Probably not my scene anyway….Anyhow there certainly seems to be an air of understandable trepidation within Sheffield about the reopening of the estate and whether or not it's going to work in the long term; with the usual polar arguments from the pessimists - moaning that it's a waste of money, time, dumping ground for problems, a blot on Sheffield skyline etc etc yawn - to the more progressive  hopeful optimists (My good self included)  - we all know a pessimist is never disappointed eh! This comment from a prospective buyer is a very encouraging one and I certainly hope more indicative of things to come  

 


 


 


 


 


 


 


I grew up in a village in the Derbyshire dales and Sheffield was always our closest major city. The place you went to but records, to go to concerts and to begin to grow up into. I was always brought up to look down my nose at Park Hill. A place for those who lived on benefits, didn't contribute anything and spent their lives indulging in anti-social behaviour.

As I grew up, I got to know a number of people who lived at Park Hill and learned that its inhabitants were just like everyone else - stuggling through life and making the same mistakes as everyone else. I now visit family in derbyshire regularly and this entails a trip through the centre of sheffield. Each time my eyes drift towards the Park Hill skyline and I am thrilled to see how its changed on each consecutive visit. I happen to think that English Heritage are almost a liability under Simon Thurleys leadership, but on this decision they were not wrong.

I am delighted that this important element of Shgeffield's social history is being brought back to life and with

any luck I will be first in line to buy one when they become available.

 


 


 


 


Discussion has ranged  from the colour of the iodised exterior panels, to the interior design, to how much they are; to much more serious fundamental and ethical questions such as who is going to live there ?, are private Landlords going to buy en masse,   how many social tenants or units of affordable housing are there likely to be and so on ad infinitum … Urban Splash have indicated there's been tons of interest with at a ratio of 20 enquiries per unit so things are definitely looking good …

 


 


 


 


 


Urban Splash says it has been "delighted" with the response, with about 1,000 people signing up for information ahead of the first sales, and strong interest from businesses. If Park Hill is successfully reborn – far from a certainty for a project which has already required one public bailout – it will complete a 50-year full circle for the estate and indicate a possible wider shift in public opinion towards such postwar schemes.

 


 


 


For all you armchair design critics out here here's the

Brochure

and also the promotional YouTube clip

 


 


 


 


 


 


 


 


 


 


 


 


 


 


 


 


There's no doubt that the spec and design layout of these flats is world class and highly enviable – it does seem clear that the market there're aiming to reach with this phase of the refurbishment is that of Urban professional

 (People seem to have dropped the "young" from this phrase - post millennia)

 


That said however it seems unclear about how a mix of social housing within the refurb is to be achieved - there is no more poignant moment to emphasize this than the video from TheOneShow; when former caretaker Grenville Squires looks around the new flats

 


– I was always under the understanding that some Social housing tenants were to be placed there;   indeed the re-housing list was already full of ex tenants who enjoyed living there so much they wanted to return.

 


It is somewhat frustrating to see so many inhabitable empty flats in the other parts of the estate with such a huge waiting list for to be rehoused – That said though it does give the lover of the Urban Environment a window of a couple of years to sit isolated within such a massive scheme - and take in the whole ambience of Brutalism in its finest and ultimately derelict form

 


 


 


 


Very good thought provoking comment on

 


 


 


•   Regeneration? What's happening in Sheffield's Park Hill is class cleansing

MelKelly's comment 28 September 2011 7:46PM

In the supposed free market councils are not allowed to borrow to build housing, yet housing associations can and property developers can.

If the market is free why successive government since have Margaret Thatcher's refused to let councils borrow to build social housing?

What good reason is there?

Councils invest for the long term need, not the short term profit, setting rents at affordable prices to cover the costs - not for making profit - and the private sector don't want to compete with that - so government's have kept the ban on councils building social housing in place.

So we are deprived of social housing to ensure private landlords can maximise profits in a rented housing monopoly.

And the end result is houses that councils would have rented out for £300 being rented out by the private sector for £800 per month

Why should any government be allowed to manipulate the market to deprive people of housing and maximize private sector profits which has resulted in mass homelessness and extortion by private sector landlords

It is time for the housing market to have the shackles removed and become truly free i.e. councils can borrow to build social housing and rent it out at affordable rates if that is what local people want.

I think it is time we had a referendum on this issue

 


 


 


 I still can't understand why Sheffield City Council decanted residents pretty much enmasse from ParkHill;  Maybe they thought they could then demolish it without anyone noticing! I agree with Owen Hatherley on this - maybe the empty flats should be squatted?  but there again why should I understand any logic from the Council ; Its happy to entrust me with potential life or death decisions about who goes to hospital in the middle of the night; but won't trust me to get an envelope from the stationary cupboard to send a GP a report!

 


 


 


Don't get me wrong; this is a criticism of Local government than a criticism of UrbanSplash; if anyone is going to make Park Hill work then I believe it's them,

Having stayed within some of their developments in Manchester which were categorically perceived as slums 10-15 years ago its amazing how much Urban Splash have  changed whole areas round. So at risk of being accused a naïve,  rose tinted spec wearing , splinter-arsed,fence sitter - I largely wish that the regeneration is a huge success –  

 


 Finally for all you old retro post war vintage nostalgia loving romantics here's some great films of ParkHill first time round, get the tea and HobNobs out and enjoy…

 


 


Streets in the sky

 


 


 


 


 


 


 


 


 


 


 


 


 


 


 


 


 


 


 


 


 


 


 


 


 


 


 


 


 


 


 


 


Heck of a lot of interest in the old dear on the week of her 50th Birthday! Check out "link central"  below.....

 

 

 

Some locals talking about the ongoing works  and the South Street  Ampitheatre

 

 

 

 

 

 

 

 Almost certainly we will be spending time in and around PH and we are endevouring; via  the council to gain (legal) access to one of the empty tenancies for photos research etc , obviously this will be a future Blog topic if we are sucessful; also am looking forward to organising several  other Industrial /  housing / heritage tours ...hopefully on the backdrop of too many Wetherspoons Breakfasts  and beer in the evenings

 

 

Been quite a while since i posted on my blog, I do apologise  for my  absence and i'm the first to admit that i'm not the best of bloggers  but  I have to say that I've  been trying to take  it a little easy since Xmas.

 

This has been a conscious decision on my part - as my family/ personal  life was starting to suffer at the hands of my many projects - additionally work (which unfortunately is a necessity not a project!)  has been pretty relentless over the past 3 months consequently  I have been a little quiet on the Artistic front -

 

 I did however manage to participate in the annual "Under the Bed" sale at Cupola , Sheffield and happily sold several pieces- many thanks to all involved at Cupola and of course the proud owners of my work !   I will be submitting more prints  in the "Naked" sale later this year

 

More importantly , another outcome of participating in the Cupola sale is that I now have an agent/promoter  (enter thewonderful Debbie Moon)  whom has managed to secure  Exhibition space for me and several other artists at the very hip and trendy...

  

 

too cool for school eh..

 

The exhibition starts on April 7th and may run for several months, there's going to be a launch party in the store with Bar , DJ and all that jazz - anybody is welcome to attend and I will be posting incriminating pics up on here at some point

 

If that big line of hills that divides the North West from the rest of the world (ie The Pennines..) is too much for you Sheffielders to contemplate then relax , I'm also going to be exhibiting  at

 

 

which is beautifully situated slap bang in front of Park Hill, inbetween Ponds Forge and Hallam Uni library - the exhibition will run from April 26th (just in time for that free Bank Holiday  eh!) I will post more detail as they unfurl ...

 

Finally 7 Garden Street in Sheffield finally seems to be taking off with Artists in residence and also numerous talks and philosophical debates.  Owen Hatherley author of Militant Modernism is delivering a talk there , Friday 8th April 630pm  to book a place contact their

 

 

 

 

 

0

/